I loved sitting on the balcony, overlooking the street, people-watching, and stitching my LE parts 4 and 5 stems. The weather was "San Diego perfect" (in the 70's).
View from the balcony
Christmas Memories
The Box of Chocolate-Covered Cherries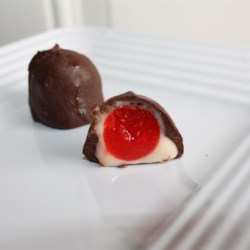 When I was a child, I would hear my mother say, "Margaret is so hard to buy for. I never know what to give her for Christmas." When I was 8 years old, a 6 inch square box appeared under the tree on Christmas morning. When I opened it I found 3 layers of 4 chocolate covered cherries, and thanked my parents for the nice gift. When I was asked to taste one, I did. The gooey Maraschino cherry floating in a marshmallow liquid and surrounded by milk chocolate did not appeal to my taste buds, but I graciously ate one and passed the box around asking if anyone would like to sample one. "No, Margaret, that is your Christmas gift, and you must eat them yourself." What to do. So I told them I would like to "save" them, took them to my bedroom and carefully placed them in the dresser (2nd drawer down, left front). I was aware that the box was being monitored, so once a month, I took out one chocolate covered cherry and forced it down. On my 9th Christmas (you may have already guessed), there was another 6 inch square box under the tree with my name on it. My mother would tell anyone who would listen that Margaret loves chocolate covered cherries so much that she saves them in her bedroom drawer and eats one a month just to keep them for the whole year! (Note: by the time the 10th, 11th, and 12th candies were eaten, they were quite dried out--and even more challenging to eat). Until I turned 21 (when I officially became an adult and moved into my own place thereby striking my name off the Christmas list) my yearly Christmas gift under the tree was a box of chocolate covered cherries.